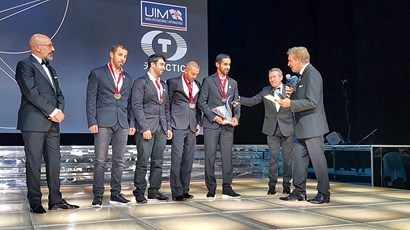 Abu Dhabi Team kicked the stage at the 10th UIM Awards Giving Gala
Abu Dhabi Team's drivers Shaun Torrente and Faleh Al Mansoori were awarded as 2018 UIM XCAT World Champions.
MONACO – It has been done in Monaco, at the Salle des Etoiles, during the 10th Edition of the UIM Awards Giving Gala, the prize-giving ceremony of the 2018 UIM XCAT World Champions.
A big night, classy and elegant, where music, entertainments and great performances couldn't stay away.
Albert II Prince of Monaco and the sheik bin Khalifa Al Nahyan were the main guests of the UIM President, Dr Raffaele Chiulli. Sport icons couldn't be missed: Nadia Comaneci, the first athlete to get the score of 10 in the Olympic Games; Yumilka Ruiz, who won two gold medals at the Olympic Games; Niccolò Campriani, three times gold medal in the discipline of Sharpshooting; and Tegla Loroupe, five gold medals and twice winner of the marathon of New York.
The XCAT stage was dominated by Abu Dhabi Team which didn't hide to the public the passion that makes it a strong one. "We are a family" said Shaun and Faleh, "We are two boats but one Team". It will definitively give hard times to the other drivers also for the upcoming 2019 season.