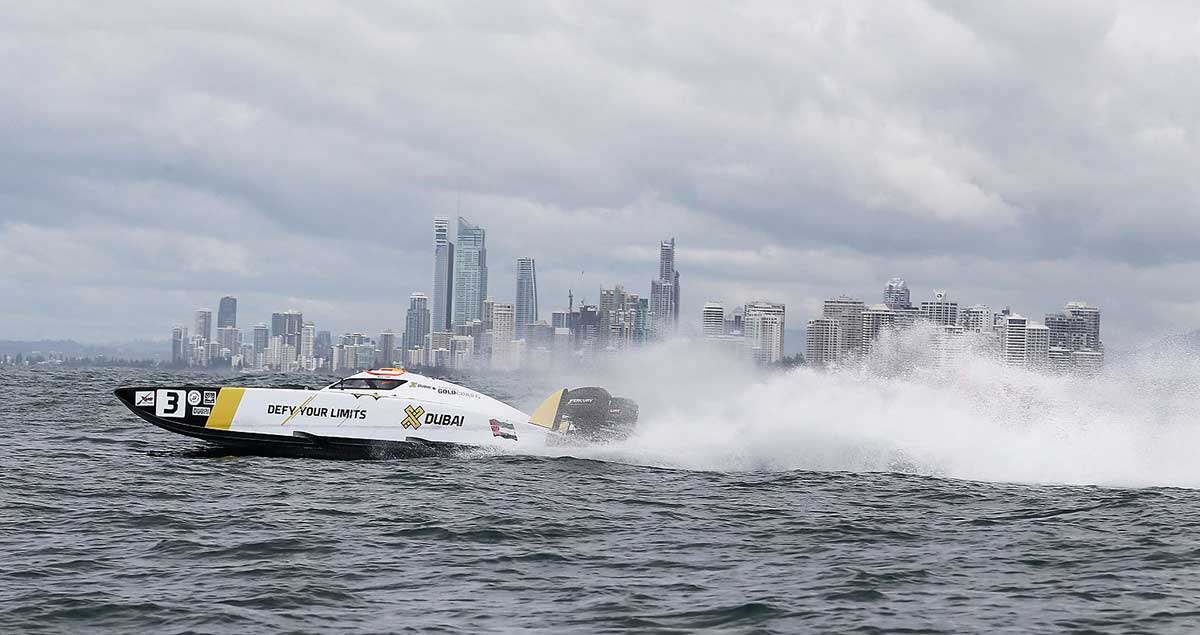 The XCAT history: The year 2015
The thrilling powerboating world championship, full of overtaking and spectacular action, continued to expand also in 2015.
A sign of the evident growth in popularity that the XCAT racing was experiencing, was reflected by the debut of 4 new teams in the Series, making this season more competitive and exciting.
In the two season-opening rounds held in Fujairah and Dubai, two new teams made their first appearance: the UAE. Abu Dhabi Team with the boat n.5, and the Swedish team Swecat Racing with the boat n.2 driven by Erik Stark and Michael Bengtsson.
The championship continued with the third event held in Cascais, a wonderful coastal resort in Portugal, situated West of Lisbon and known for its sandy beaches and lively touristic marina.
While the teams battled vigorously with near the fastest laps, the unsettled weather conditions along with the unpredictable strong gusts of wind, made the race an epic one.
Extraordinarily, the fourth round took place in the glorious city of Gold Coast, hosting an XCAT battle in Australian waters for the first time.
Collecting fame for its sun, surf and white sand beaches, the city of Gold Coast is the sixth-largest city in Australia, and with its 52 kilometres of coastline, it was fast becoming the sports and events capital of the country.
In line with the expectations, the Australian round was one of the most challenging races of the season, also thanks to the debut of two additional local teams: the Gold Coast Team with the boat n.11 led by the duo Tom Barry-Cotter and Ross Willaton, and the Australia Team with the boat n.8 driven by the duo Brett Luhrmann and Pal Virik Nielsen.
Afterwards, the XCAT World Series moved back to the United Arab Emirates for the fifth stage held in Dubai and then followed by the long-awaited sixth and final race in Abu Dhabi.
Wrapping up another memorable year of top-class powerboat racing, the World title was claimed again by the defending champions Arif Al Zaffain and Nadir Bin Hendi of Victory Team with the boat n.3. Remarkably, in their first season of XCAT Racing, the Abu Dhabi Team finished the championship in the second position, with their boat n.5 led by Faleh Al Mansoori e Rashid Al Tayer. The final third place went to the Nicolini Offshore Team, with boat n. 6 driven by Matteo Nicolini and Tomaso Polli.

In conclusion, the year 2015 confirmed the unicity of the XCAT World Series, displaying wonderful locations of competition, and bringing excitement and first-hand experience to the attending audience and fans.