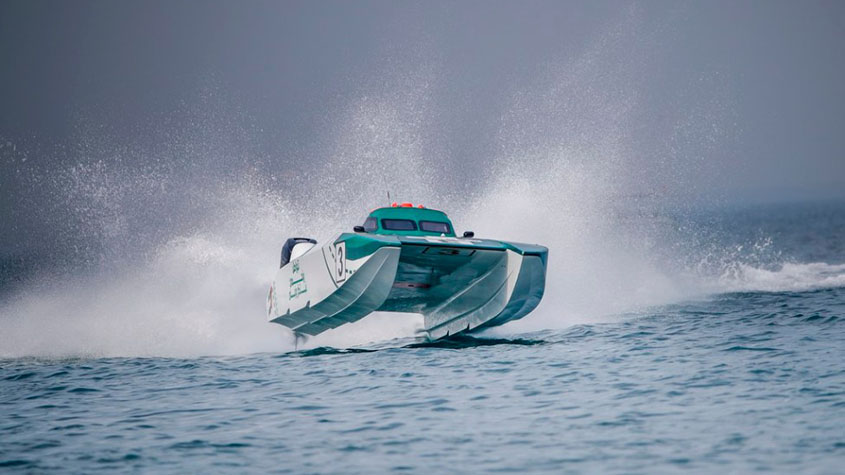 The UIM XCAT World Championship is racing in Stresa!
The XCats are alive and kicking, ready to battle for the 2019 crown. In one week we'll see all of them in Stresa, on the Italian shores of Lake Maggiore.
It was about time. After the winter break and a one-off tournament in the UAE in March, it's now time for the real deal: the 2019 UIM XCAT World Championship is about to start. The joint work of UIM, the World Powerboating Federation chaired by Raffaele Chiulli, and FIM, the Italian Federation led by Vincenzo Iaconianni, is bringing a spectacular event to Italy.
The 2019 XCAT teams and boats are gathering in Stresa, on the shores of Lake Maggiore, where the beauty of the landscape is complemented by the Italian charme and hospitality. But most of the weekend will be on the water: practice sessions, qualifying, races… and a multiple stage of the Italian Formula Junior Elite.
XCAT drivers from four continents will get in the cockpit, to pilot (two people per boat) their 800 HP catamarans, racing boats made in carbon fiber capable of a top speed in excess of 200 Km/h.
We'll see overtakes, failures, hard fights, wins… loads of adrenaline while the crafts representing their teams and nations give the best to cross the line first.
Before and after the racing moments, there will be plenty of activities in and out of the water. And the luxurious and indulgent ambient of Lake Maggiore means a lot of mundanity and relaxing moments too, with a VIP dedicated area, entertainment activities, and cool events in the evenings and nights.
If you are from the media, please get in touch with the organizers if you wish to take part to the three-day event, indicating whether you are a journalist, a photographer, or a guest (of whom). We'll provide with the info and the indications. Soon we will also communicate the official entry list of the XCAT race and the full schedule.
Get in touch!